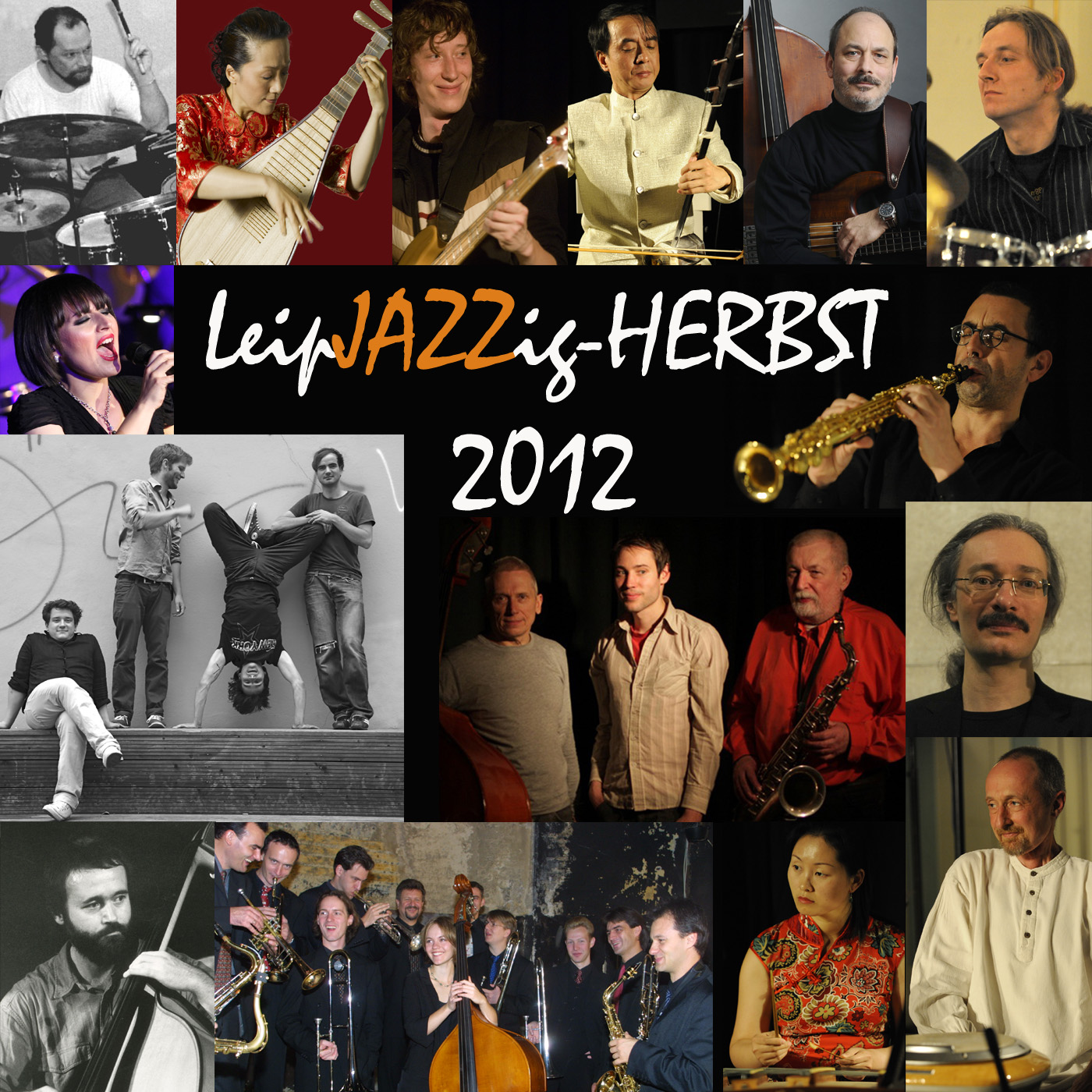 Next week, from 20.11. to 23.11., the festival LeipJAZZig-Herbst 2012 will take place. All members of the jazz club (who show their ID) will be granted reduced admission (10,- EUR per VA evening). The complete festival program can be found at
www.leipjazzig.de
.
From the tips of the
current jazz calendar
:
"As the LeipzigBigBand also proves, the Leipzig big band landscape is not only remarkable in terms of numbers. Their world, with which they travel to the world (Jazz Festival Montreux), are mainly standards from bebop, Latin, fusion, swing, Bach and quite pop, as well as original compositions. After soloists like Allen Vizzutti and Nina Hagen, Lia Roth sets the tone vocally at the autumnal festival, alongside Frank Nowicky as the beat-setting saxophonist.
Michael Breitenbach (ss, synth) invites you to temporarily forget time and space, to lose yourself in the eternal-universal music made audible by his completely free playing trio with Jacob Müller (e-b) and Beat Freisen (dr) and to let your soul dance.
Last year's "Green" LeipJAZZig "Deer" will be replaced by Das Blaue Pony, almost logically and seasonally. Soberly (!), it will undertake intensely beautiful sound rides. In doing so, Johannes Moritz (ts, cl, b-cl), Sebastian Wehle (ts, as), Robert Lucaciu (b) and Philipp Scholz (dr) do not shy away from Waits-like Rain Dogs and a path through the jungle of chamber music and free jazz.
Twice triumphed and jubilated Stephan König twenty-five years. Together with double bassist Thomas Moritz and drummer Jörg Steffens he plays "emotional jazz", between haunting, nebulous and timeless. Then he pays homage to Johann Sebastian Bach in a double-bassistic Thomas-Sta(h)r line-up, without giving him a Wieland-Götze(n) service in percussion.
"Crossing borders", without crossing borders of taste, is the business of the sure-beat Wolfram Dix. European forms of improvisation and Chinese ways of making music by Dong Jinming (erhu), Zhou Daiyu (yangqin), Dong Ya (pipa) approach each other.
With a big sound, saxophone veteran Manfred Hering will lend special splendor to the fading LeipJAZZig autumn. Jazz themes from America, East German avant-garde and folk songs are source material for his trio, which was founded in the 80s with Rainer Kühn (b-g) and Wolfram Dix (perc), now has its comrades-in-arms in Christoph Winckel (b) and Beat Freisen (dr).
- Steffen Pohle, from Jazzkalender 11-2012 -