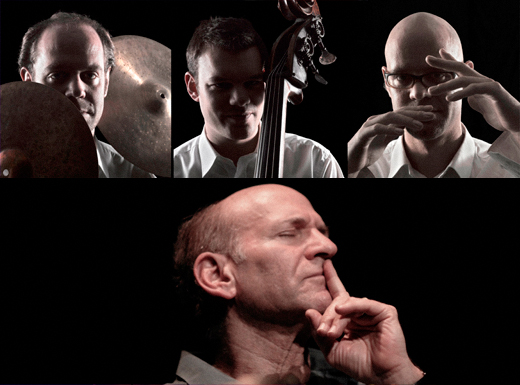 Power and drive: musical togetherness full of unexpected melodic, rhythmic and dynamic twists.
Michael Arbenz (p), Thomas Lähns (b), Florian Arbenz (dr), Dave Liebman (sax)

For as long as VEIN has existed, the trio has repeatedly joined forces with guest musicians on horizon-expanding and groundbreaking projects.
Now, once again, in the exciting and idiosyncratic quartet with the great saxophonist Dave Liebmanthe great saxophonist with whom VEIN has been planning a collaboration for some time.
So here four musicians meet who know each other very well and know exactly that musically they fit together perfectly. For just as the trio itself has found an almost symbiotic interplay with its origins, with its stupendous musical togetherness and with its understanding of the greatest possible equality of voices, so it always finds a musical complement in Dave Liebman in an immensely inspiring way:
Liebman, with his independent, modern, but always tradition-respecting playing one of the most important saxophonists of today's jazz, moves most confidently through the groove-emphasized, the lyrical, the rhythmically as well as harmonically complex and open pieces and passages of the quartet's repertoire, which consists mainly of original compositions.
And last but not least, Dave Liebman also embodies a piece of jazz history for his younger fellow musicians. Since the 1960s, he has repeatedly performed with the greats of jazz and brings into play exactly that which is an almost elementary concern for VEIN: the spirit of this music.
A collaboration based on the greatest mutual respect. This is one of the reasons why this quartet works so well together.