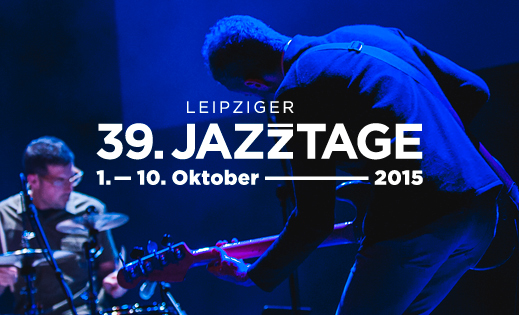 Brad Mehldau, Nils Petter Molvær, Renaud García-Fons, Sex Mob, Michael Wollny, Wayne Krantz, Johanna Borchert, Omer Klein, Maciej Fortuna & An On Bast, Klima Kallima, Trio Schmetterling, Philipp Rohmer, Bertram Burkert ... Cinematic Jazz in Leipzig from October 1 to 10, 2015.
Jazz and film. Jazz in film. Film in jazz. The motto of this year's Leipzig Jazz Days is "Cinematic Jazz". It is well known that jazz has played a major role in film ever since "Elevator to the Scaffold" (just think of Woody Allen's films or "Oh boy"). For some time now, however, the cinematic has also become more and more present in jazz (think of the Jazztage performances by Erika Stucky, Skalpel or Mouse on Mars). So "Cinematic Jazz" on the tableau!
Brad Mehldau "After Bach

Nils Petter Molvær "Switch
Renaud García-Fons sets "The Adventures of Prince Achmed" (D 1926) to music
Sex Mob plays Fellini & Bond
Michael Wollny sets "Nosferatu" (D 1922) to music
An On Bast & Maciej Fortuna "Electroacoustic transcription of film music by Krzysztof Penderecki".
Klima Kalima "Finn Noir
Wayne Krantz Trio
Johanna Borchert "FM Biography
Omer Klein Trio
Trio Butterfly
Philipp Rohmer Sextet plays Ennio Morricone
Bertram Burkert Quartet
a.o.
Subject to changes